Up to 75% of pet problems seen for virtual appointments can be treated through telemedicine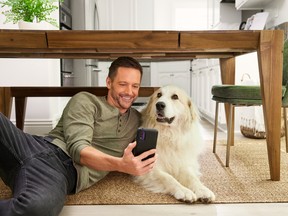 Article content
If your household welcomed one of the three million pets reportedly acquired in Canada since the start of the pandemic, you've likely experienced pangs of worry about your pet's health.  
Article content
Even before the pet adoption boom, Canada was grappling with a veterinarian shortage, and many existing vets were unable to take on new patients due to workload and burnout.  
Article content
Then, public health measures during the pandemic further complicated pet owners' access to care in Ontario. Something had to give.  
Today, with help from technology partners like TELUS My Health, veterinarians have bridged this gap.  
Thanks to tools like the TELUS Health MyPet app, dog and cat owners can now access virtual care through their smartphones, connecting with licensed veterinarians from the comfort of home. 
"Telemedicine does not replace hands-on physical care and the need for things like vaccinations and tests," said Dr. Koharik Arman, a Vancouver-based veterinarian. "But when it comes to non-urgent medical issues, like simple ear infections, eye infections, upper respiratory tract infections, skin reactions and minor wounds — those are the best types of cases for virtual medicine."  
The Telus Health MyPet app recently launched in Ontario after success in British Columbia. It's free to download for both iOS and Android. Ontario-based veterinarians available through TELUS Health MyPet are affiliated with Pet Telemedicine Veterinary Care in Toronto. 
"We believe that patient-centric, high-quality virtual care should be available to all members of our family, including our beloved dogs and cats," said Juggy Sihota, chief growth officer for TELUS Health. "Bringing TELUS Health MyPet to Ontario is yet another stepping-stone in our journey to becoming the most trusted well-being company on the planet."  
Article content
A majority of pet problems (75 per cent) seen for virtual appointments can be treated through telemedicine without a visit to a clinic, according to a recent survey from the Ontario Veterinary Medical Association. And this service is especially helpful for pets who struggle with anxiety or who don't travel well in vehicles.  
Many dogs and cats acquired during the pandemic haven't been well-socialized, due to isolation requirements. As public health measures eased, many pets experienced separation anxiety, and some need to be sedated prior to a veterinary appointment.  
Due to this anxiety, they also might not behave normally during an in-person appointment. By accessing virtual care in the comfort of their homes, they're more likely to be calm and relaxed, acting in a way consistent with their typical day-to-day behaviour.  
Virtual veterinary care is particularly useful in rural and remote areas, where many pet owners don't have access to a veterinary clinic and may face challenges travelling to and from appointments. And, since many new pet owners are young professionals between the ages of 18 and 24, the convenience of flexible virtual care often fits better with their preferences and routines.  
"Virtual pet care can also help avoid long wait times at veterinary clinics, and potentially head off some of the extra expense and stress often associated with in-person care for non-emergency situations," noted Sihota. "And all TELUS Health MyPet consultation notes can be easily accessed within the app and shared with a regular family veterinarian to ensure continuity of care." 
Article content
Ontarians were among the most active pet adopters in the country during the early stages of the pandemic. For example, Humane Canada says Toronto had the highest number of cat adoptions in the country. Across Canada, the number of dogs increased from 7.6 million to 7.7 million between 2018 and 2020, according to the Canadian Animal Health Institute.  
This significant growth in pet ownership and adoption over a relatively short period of time put additional strain on the capacity of veterinary clinics, and the pandemic accelerated an evolution in veterinary medicine. 
"I think it's going to be an essential and integral part of pet care," said Dr. Arman. "It's part of the solution in terms of the veterinary shortage. There are other avenues being explored as well, but I think telemedicine will be a big part of it. 
"In terms of the newer generation of pet owners since the pandemic, those individuals strongly want to be able to partake in telemedicine for their pets. The demand will continue to be there, most definitely," she continued. "I would encourage everybody with a cat or dog to download the TELUS Health MyPet app. It's free." 
 "Post a picture of your cute little pets, so we can see them. We hope to be able to help soon." 
TELUS Health MyPet is a free download via the App Store, Google Play, or at telus.com/mypet 
This story was created by Content Works, Postmedia's commercial content division, on behalf of TELUS Health.