The Persian poet and Sufi mystic Rumi spoke of gratitude as a mantle: "Wear gratitude like a cloak, and it will feed every corner of your life." Integrate this ideology with love of community and service to all and you have arrived at Wag Heaven Pet Supplies and Self-Serve Dog Wash, which has two locations in Georgetown, Texas.
Besides these attributes, husbands and co-owners Jeffrey Manley and Jusak Yang Bernhard are quick to cite divine guidance as a central factor to the many doors and paths that have opened to them.
"Everything that Jeff and I do is based on our faith," Yang Bernhard says.
The circuitous path to Wag Heaven was set in motion in Los Angeles where Manley and Yang Bernhard enjoyed productive careers within the film industry. However, longing to be closer to Yang Bernhard's East Coast family, the pair packed up and headed to Savannah, Ga., accompanied by their rescue dog, Kai. Initially envisioning restaurant ownership, after careful consideration, the pair deemed the prospect of cooking all day to be wanting. In the meantime, the diet that Kai, who suffered food sensitivities, had thrived on in Southern California was unavailable in the new locale.
Shifting their vision, the men opened a pet store featuring holistic foods for the furry set. The endeavor, christened TailsSpin Pet Supply, opened in 2007.
"It was a tiny store, 800 square feet, but we loved the community and loved what we were doing," Yang Bernhard says.
With Kai firmly ensconced as a family member, and pet adoption near and dear to Manley's and Yang Bernhard's hearts, rescue dogs Riley and Cosmo soon joined the family pack. Manley notes that TailsSpin's first order of business was to reach out to local rescues and shelters.
"We knew from an early point that we wanted to work with the rescue groups, but sidewalk space for adoption days was limited in our first store," he says.
Multiple locations with more space soon followed. Drawing on past nonprofit experiences in Southern California, the TailsSpin business model revolved around a touchstone of philanthropy.
"We were involved with nonprofits in Los Angeles—for instance, I was president of CAPE (Coalition of Asian Pacific Entertainment)—and because this was what we knew, we ran our retail business like a nonprofit," Yang Bernhard says. "Basically, our mission is to serve."
Following this credo, the duo became involved in a host of community efforts, including the creation of Savanah's first dog park, and support of rescues and shelters, veterans and local schools. As big-box stores and other competitors arrived on the scene, the community rallied in support of the retailers.
"Thank God for the community, that's how we survived," he says.
Soon, the couple faced another concern. Manley's aging parents and an autistic brother, residents of Georgetown, Texas, needed assistance. Providence took over with the sale of TailsSpin, and the path was cleared to a new life in the Lone Star State.
"Jeff's father wasn't doing well, and we felt we needed to be better sons, so we sold our company, and that's how we arrived in Georgetown," Yang Bernhard says.
With the passing of Manley's father seven months after their arrival, the pair continued to put down roots. Since their parents and brother resided in Sun City, a 4,100-acre retirement development, involvement with the Sun City Pet Club was a natural fit. The association boasts a vibrant membership participating in a range of activities and altruistic efforts.
During this time, the men lost their beloved Kai.
"Kai was our first dog and our inspiration to opening a pet store," Yang Bernhard says.
Three years later to the day of Kai's passing, a stray wandered into the neighborhood bearing a remarkable resemblance to Kai. The couple was enchanted.
"They look quite the same," he adds.
Already familiar with the pet adoption process, the first order of business for the pair was to surrender the wayward pup to the city shelter for due diligence in finding an owner. Unclaimed, Koda was welcomed with open arms into the Yang Bernhard-Manley household, and another door opened.
The adoption fostered a relationship with the Georgetown Animal Shelter, and subsequently the county shelter.
"Through the city shelter, we got to know the Williamson County shelter," Yang Bernhard says.
After the couple had dedicated two years to full-time family caregiving, by 2019, the siren of the pet business beckoned, and in November of that year, Wag Heaven began welcoming customers. Rolling up their sleeves, the men went to work in soliciting support and donations for the two shelters.
"When we opened, we talked to some of our manufacturers based on our past relationships and some of the people we knew from Savannah, and they were able to help," Yang Bernhard says.
A second, downtown location was in the works by early 2020, just as a pandemic rumbled on the horizon.
In the meantime, Koda and her new family had enrolled in a training class presented by the Sun City Pet Club, and the entrepreneur's affiliation with the organization deepened. For instance, in partnership with manufacturers and industry experts, Wag Heaven has presented educational workshops to members.
"We started meeting with the club before we got Koda, and since Mom, Dad and Kevin were living in Sun City, we were honorary members," Yang Bernhard says.
It takes a village, and as the country shutdown, the citizens of Georgetown rallied in support of the fledgling enterprise.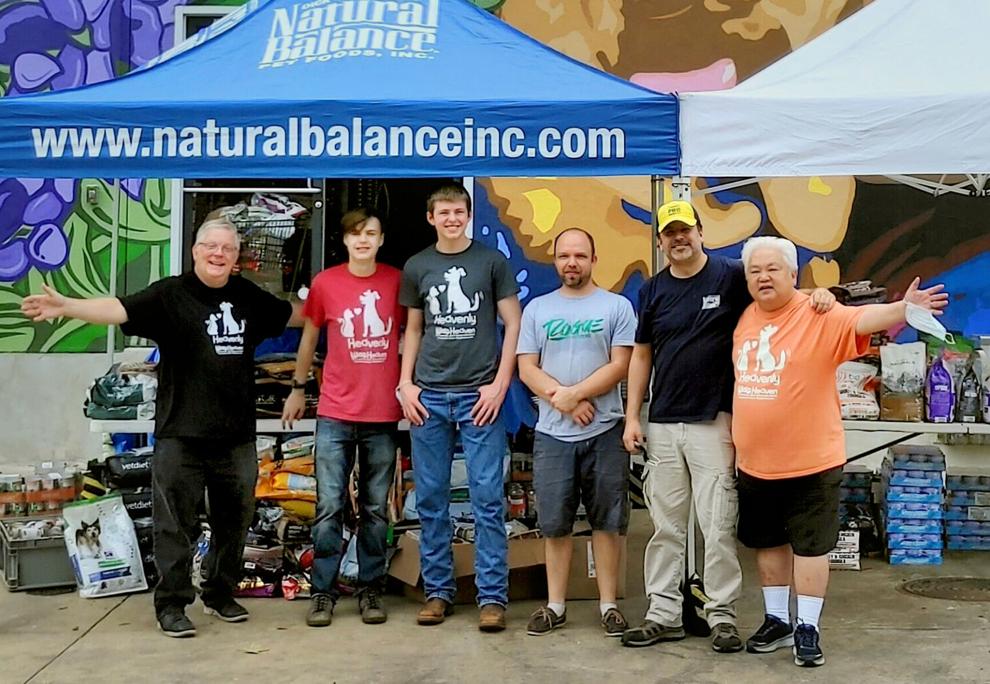 "We were already involved with the animal shelters and the Sun City Pet Club, and the community pulled us out," Manley says.
As the crisis wore on, the Wag Heaven team recognized a financial need among some of the pet-loving residents of Georgetown—pet food—and organized giveaways.
"It was God's way for us to give back," Yang Bernhard says. "When we opened our second store, I initially ordered a lot of product to take advantage of discounts, intending to divide it up between the two stores. As the pandemic hit, we felt we wouldn't be able to sell it all, so we decided to donate."
Manufacturers jumped in, contributing close-dated foods.
"At the time, people were holding all sorts of drive-thru events, like birthday parties, and we decided to do it that way," he says. "So, residents drove through, and we'd load them up. We had hundreds of cars per event."
"We held four successful giveaways," Manley adds. "The first was in April 2020, after the initial shutdown, through Georgetown Animal Shelter."
Residents were also invited to donate, and manufacturer offered discounts on foods.
"The manufacturers have been so kind," Yang Bernhard says.
In the meantime, The Sun City Pet Club reached out to members, who dug into their own pockets.
"The Sun City Pet Club is very philanthropic and has a lot of members willing to donate anytime a need comes up," Manley adds. "It's amazing that this pet club, with a $16 annual membership, has been able to contribute about $20,000 to different shelters and organizations in the community."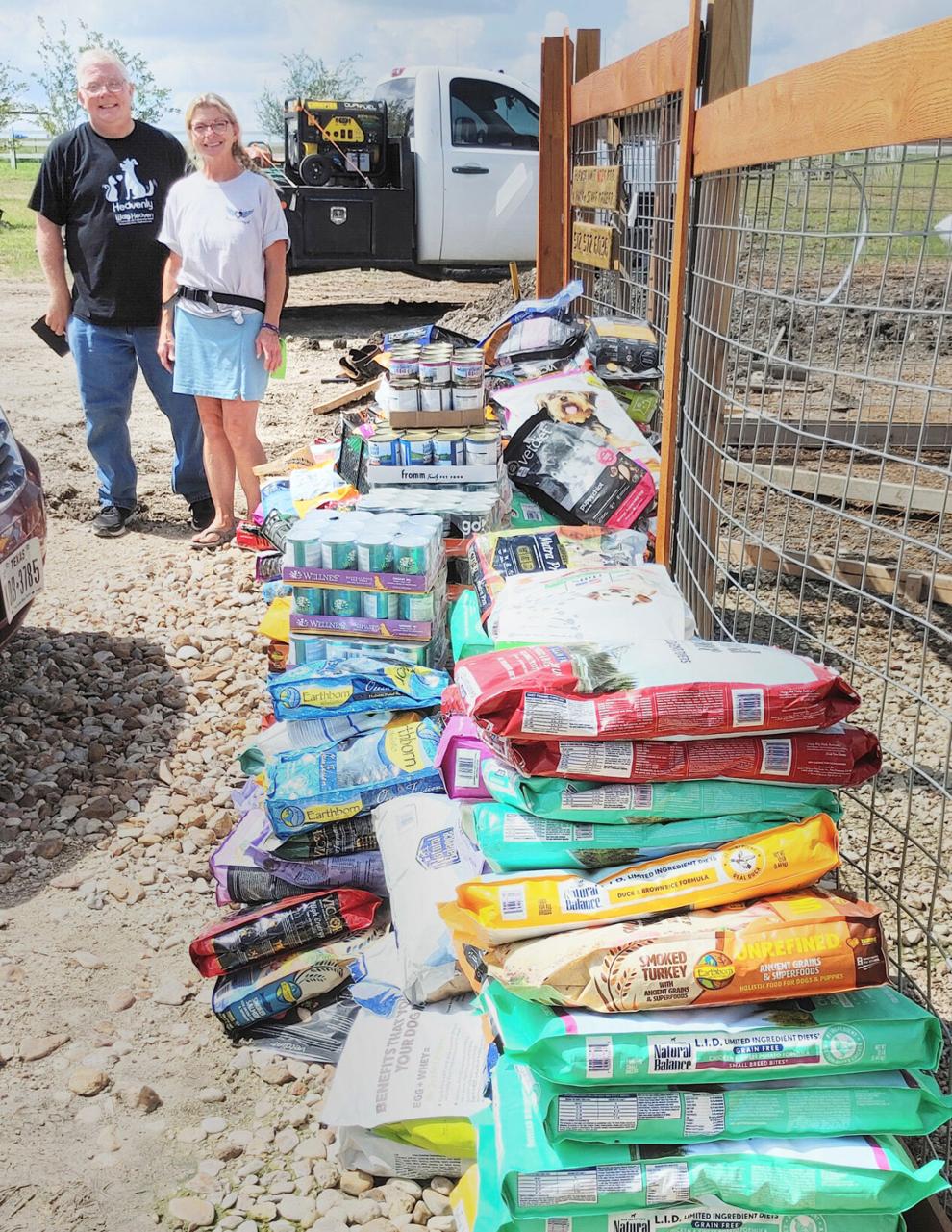 For Those Who Serve
In Savannah, the entrepreneurs were involved with the sheriff's department, providing food and other necessities to the canine officers and their handlers. In early 2020, as Yang Bernhard and Manley scouted a site for a second location in downtown Georgetown, an avenue to continuing in that vein emerged. The Williamson County Sheriff's office was across the street.
"Our first store had just been open for a month, but we went over to talk to them and asked if we could become involved," Manley says.
The result of this meeting led to Wag Heaven supplying the food that had recently become unobtainable locally to the department, and more.
"They were interested in exploring raw food, and we were able to put together a discount with Instinct for law enforcement," Manley says.
Dog washes and in-store "sniff" training opportunities are also provided.
Happenstance resulted in Wag Heaven supplying food for the city fire dog.
"While volunteering to help with preparation of a Thanksgiving meal for the community, we met the deputy fire marshal and asked how we could help the department," Manley says.
The pair was already dedicated to veteran concerns, and the opportunity to honor dogs in military service was initiated when a staff member discovered that Nemo, a Purple Heart-decorated war dog, had spent his last days in Texas. The heroic canine is memorialized at the Nemo's War Dog Heroes Memorial, located at Lackland Air Force Base in San Antonio.
The idea of creating a mural honoring service dogs began to take shape, and a large outside wall of the downtown Wag Heaven store seemed the ideal canvas.
"We had always wanted to do a mural commemorating the war dogs," Yang Bernhard says. "Going back to our faith, it was just laid out for us."
After meeting with the city to propose the concept, the Georgetown Arts and Culture Board began to research funding and applied for a grant through the National Endowment of the Arts as part of the Healing Arts Program for Veterans and Military Service Members. the city and Wag Heaven matched the funds.
Today, the vivid public fresco—designed by muralists J. Muzacz, a veteran, and Texas native Jay Rivera—depicting canine heroes, including police dogs, and Nemo, decorates an entire outside wall of the store.
"It has been amazing to see the passion that came out with the city, the community and the veterans for this mural once it was announced," Yang Bernhard says.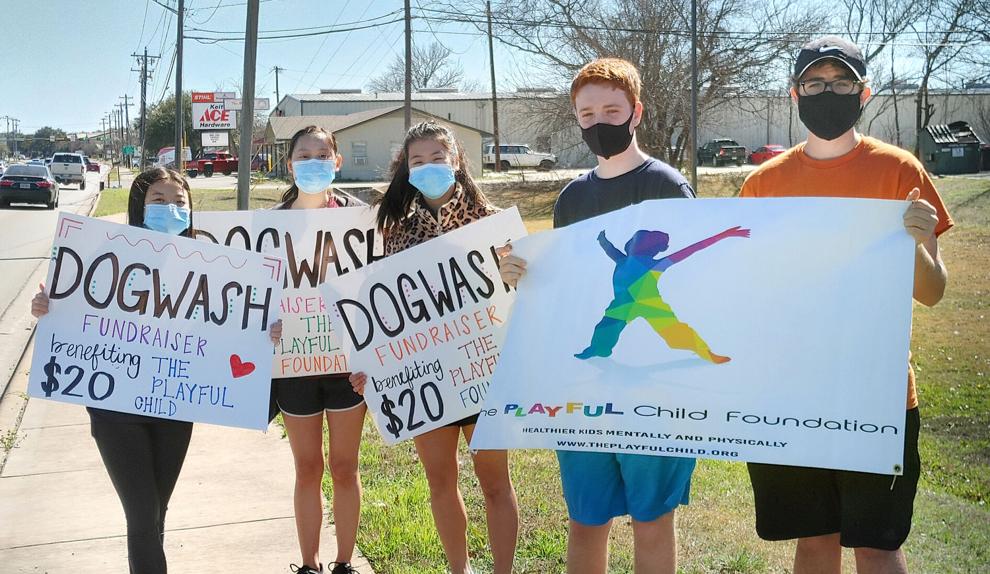 Washing for a Cause
Wag Heaven features two dog wash stations in each location, and the tubs are put to good use in support of myriad public-spirited endeavors. High school volunteers are often at the ready to take on sudsing duties, meeting community service requirements at the same time.
"Generally, volunteers wash the dogs for a donated fee," Manley says.
Besides a sparkling, dapper dog, those contributing to the cause receive manufacturer coupons and a certificate for a free dog wash at a later time. Wag Heaven donates 100 percent of the proceeds to recipient organizations.
"We see so many mission-driven people coming into our stores, and we are all about that," Manley says.
Grooming services have recently been added at the downtown store.
"One way for independent retailers to compete is to offer more services," Yang Bernhard says.
Manley and Yang Bernhard support a variety of outside concerns, including local pet retailers.
"Georgetown is growing tremendously—we are at 90,000 in population—so it's kind of silly to think of these shops as competition," Yang Bernhard says. "More than competing, it's important to Jeff and I to help build an industry."
This line of belief is bolstered through the Georgetown Chamber of Commerce Small Business Circle, conducted by Manley and Yang Bernhard, where small-business owners gather to network, partake of workshops and enjoy camaraderie based on shared experiences.
"Local pet retailers are members as well," Yang Bernhard says.
Kindness Above All
With service at the forefront of the Wag Heaven ideology, kindness is a fundamental trait in an employee, according to Yang Bernhard.
"All of our staff members are so kind. It's especially important here in Georgetown: As a retirement community, we need to take the time to explain and help," Yang Bernhard sas. "Knowledge can be taught. It's what's in the heart that matters."
Manley pointed out that this willingness to assist customers in selecting sound nutritional options or the correct product is vital.
For this reason, training includes online studies with Pet Store Pro, the free online training tool for pet retailers created by the Pet Industry Distributors Association (PIDA), plenty of shadowing of the owners, and workshops presented by a wide range of industry experts. The result is a Wag Heaven ambassador with problem-solving knowhow.
"For instance, we might advise on a type of harness, and then help with the fitting," he says. "We want to guide our customers so that when they walk out of the store, they feel closer to solving a problem or issue."
Further, staff members are enthusiastic in promoting the vision of the enterprise.
"They understand the impact and effect we all have in this," Yang Bernhard says.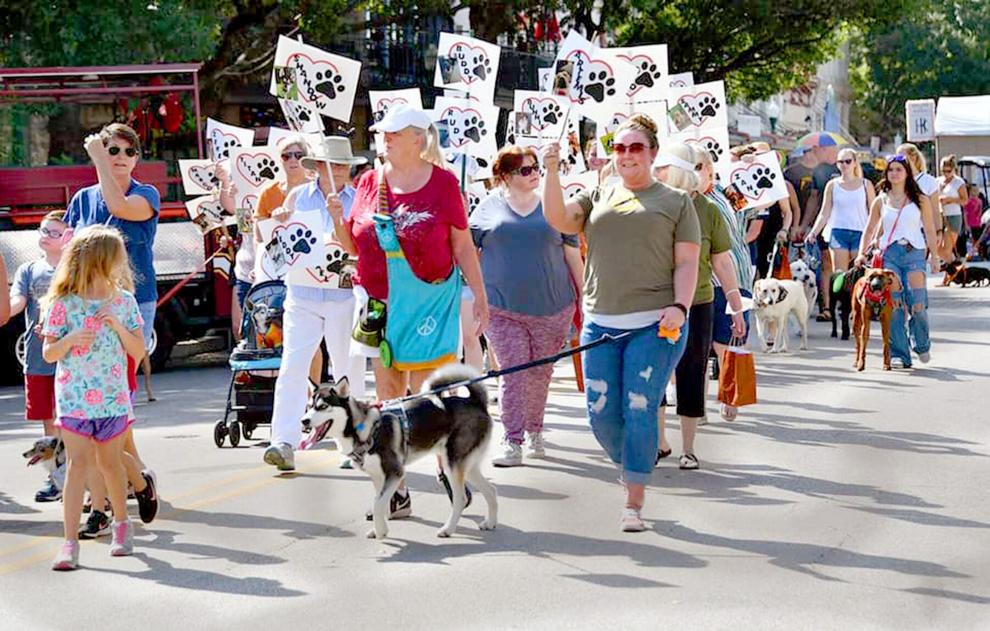 For example, when 75 dogs lost their lives in a catastrophic Georgetown boarding kennel fire, Wag Heaven organized the inaugural 2021 POPPtoberfest Pup Parade, a special tribute to the animals lost in the tragedy. As the procession of pets and their owners wound through the beautiful town square, many held pictures of absent companions. The name of each dog was read aloud, followed by a recitation of the poem "The Rainbow Bridge."
"Our staff members were part of the parade. They know how powerful, how important the giving back is," Yang Bernhard says. "This event was so meaningful. Several of our customers lost dogs, and the support of the community was so comforting."
The opportunity to employ teenagers with special needs arrived via a unique marketing program that began with a drive-thru store selling iced tea.
"We provide quality treats in a little bag with a Wag Heaven sticker and a discount coupon to be handed out with each order," Manley says. "Initially, our staff was putting the bags together, but Jusak reached out to the special education departments of the local high schools."
That outreach resulted in a workforce of special education students hired to assemble the goodie bags.
"We have been doing this for a year and a half," Yang Bernhard says.
The bags are now available at local banks, coffee shops in the downtown area and other local fast food establishments.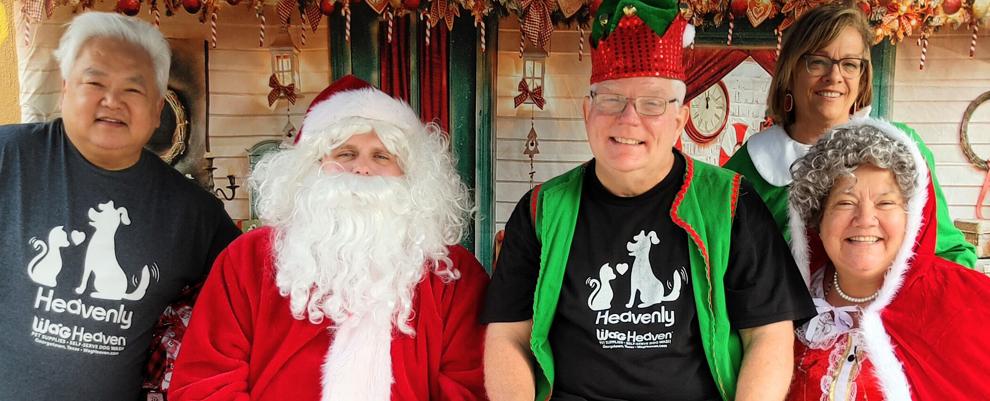 Functional and Nutritious
The food mix at Wag Heaven focuses on high-quality selections that are corn, wheat and soy free.
"Our product mix is mostly food, and we are very basic, very straightforward," Yang Bernhard says.
However, since Sun City residents form much of the customer base, a food endorsed by local veterinarians is in stock. Further, the financial limitations of those on fixed incomes is a consideration, addressed by a wide range of price points.
"Obviously, we want to offer foods that offer better nutrition than the grocery store brands," Manley says. "That's where knowledge comes in. The brands that we carry have a track record of offering quality nutrition."
A 14-day guarantee on dry food enables pet owners to try out a new selection without worry.
"We want to make sure the dog likes what they get," Manley says. "If someone is trying to change their habits, we make it easy for them to try a food. All of our manufacturers have been really good about supporting this."
The store's full line of pet supplies includes supplements, treats, collars and leashes.
"We don't carry froufrou stuff; everything is functional," Manley adds.
Texas-made products and foods are spotlighted.
"We always love local products," Yang Bernhard says.
For Manley, Yang Bernhard and the Wag Heaven team, a cloak of gratitude, love and faith will endure.
"We have to give back, we have to be grateful and we need to spread this around," Yang Bernhard says.
---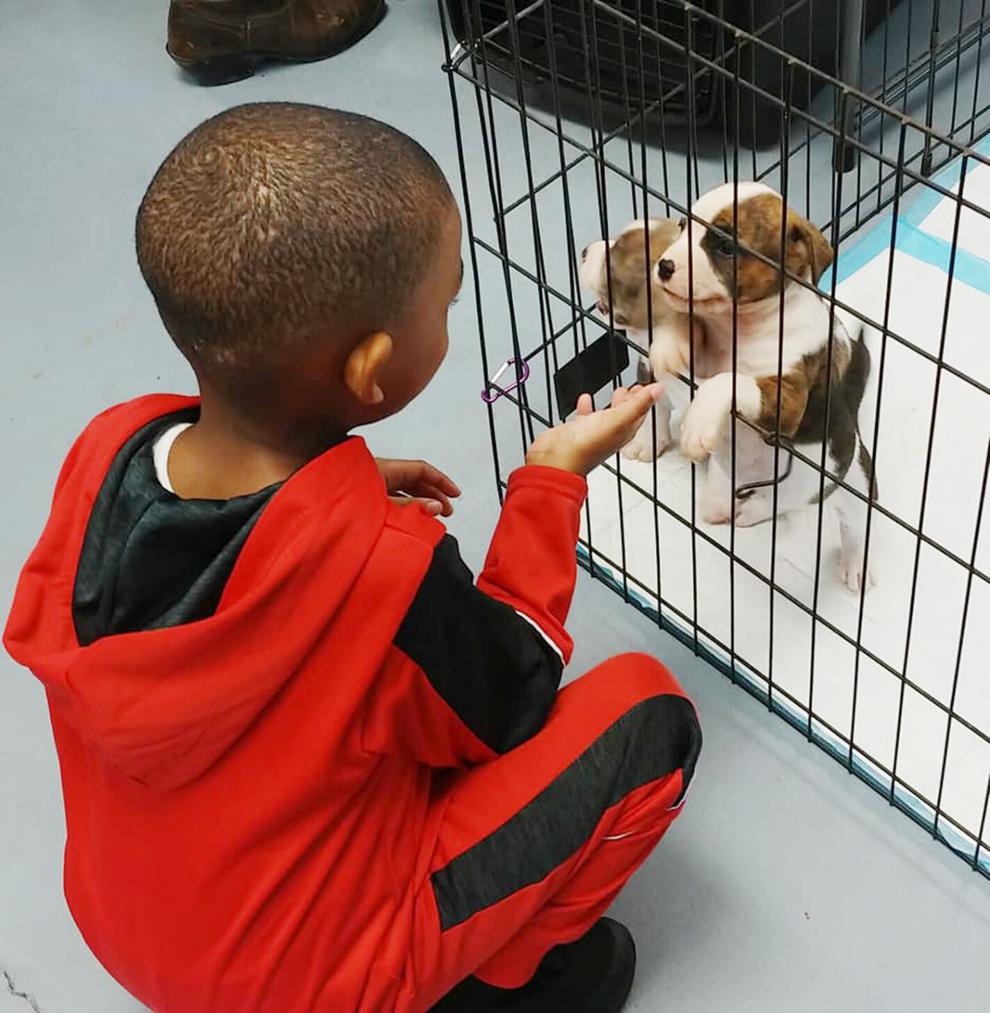 It's A Retail Life
What is Wag Heaven best known for?
Jeffrey Manley: Our community service and our gratitude.
What is the greatest challenge for the independent pet retailer today?
Jusak Yang Bernhard: Keeping the doors open and encouraging people to continue to shop brick-and-mortar.
What about for the pet industry overall?
Yang Bernhard: It will continue be tough to compete with the online retailers. For example, we changed our business model during the pandemic by offering online sales, delivery and curbside service. Even with that, we are having a hard time being in the market with the competing online retailers.
Manley: Some of the online companies are even trying to enter the market with services.
Are you watching any interesting trends?
Manley: At one time, people would come in because their dog was itching; now they are focusing on functional products and preventative health.
What do you see for the future of Wag Heaven?
Yang Bernhard: We are working with a wonderful, amazing, established artist, Alex Chiu, to develop some of his work into our own toy products. We are also looking into more private labeling of treats and toys.
Manley: It's important to keep growing. At the end of the day, this is a multibillion-dollar industry, and we need to keep on thinking of how we can penetrate and have an effect.
---
The Noble Horse
Recent studies have hypothesized that the electromagnetic energy radiated by the heart rhythm of a horse is strong enough to influence that of a human, providing a calming, healing force. Further, for children with sensory issues, adults rehabilitating from a stroke or head injury or veterans with post-traumatic stress disorder (PTSD), the motion of a horse's movement has proven therapeutic.
These attributes, enveloped in the intrinsic kindness of the equine, are put to good use at Georgetown's Ride On Center for Kids, or ROCK, a physical therapy equine-assisted activities program. The mission is to improve independence and life skills of participants in partnerships with the horse.
"Children aged two and up come for speech and physical therapy, right up to our oldest participants in their eighties who are riding to enhance their stroke recovery or as a benefit to those with multiple sclerosis," says Karah Powell, development director of the Georgetown, Texas-based nonprofit organization.
The center is sited on 60 acres of land, and 27 staff horses and 421 volunteer teams are at the ready to assist in meeting this objective. It was through volunteer staff members that ROCK and Wag Heaven formed an alliance.
"A husband and wife team, customers of Wag Heaven, introduced us to Jeff and Jusak, who suggested we do a dog wash fundraiser at their store," Powell says.
As it was slated for December 2020, Powell proposed adding a photo-op with Santa to the event.
"We brought out our Santa and Ms. Santa, even one of our horses for a short time, and Wag Heaven partnered with students to meet volunteer hour requirements for their honor classes," she says.
While the majority of participants brought furry family members to relish in a spa day, others simply donated to ROCK. Manufacturers joined in.
"Wag Heaven partnered with their food suppliers to give these great little swag bags to everyone," she says. "It was a huge success, and ROCK received the entire donated amount."
The successful event was repeated in 2021, and to date the dog washes have amassed more than $2,000 for the concern.
However, Wag Heaven's interest in ROCK extends beyond the noble equine.
"We have a few resident therapy dogs in our ROCK family, and Wag Heaven partnered with us to provide food to Goose, our resident Labrador," Powell says.
Powell appreciates Wag Heaven's deep commitment to community.
"Wag Heaven is so philanthropic; even when they advertise in the local paper, a charity is always mentioned," she says. "They might say, 'Did you know that the animal shelter needs this?' or 'We are raising money for ROCK.' The charities they choose to partner with receive advertising at no cost, which is great because advertising is not really in our budget."
This gratitude extends to the entire staff at Wag Heaven, where Powell shops for her two dogs, Maddox, a schnoodle, and Barney, a mutt that was found wandering on the side of the road.
"Their customer service is spot on. Everyone is so kind," she says.
Powell is looking forward to the next ROCK dog-wash extravaganza.
"We have one planned for April, and our Easter Bunny will be on-hand for photos," she says. "The Easter Bunny and puppy dogs, what's not to like?"