"Everything you need for all the pets you feed." With this tagline, how can a pet lover not be enticed to step into a Feeders Pet Supply store?
The enterprise, which started as a farm feed delivery business known as Feeders Supply Co. in 1959 in Kentucky, has since expanded to offer a robust assortment of product and services. Today, it's the overall shopping experience and outstanding customer service that generate loyalty and repeat business.
"Roy Gibson opened Feeders Supply, and his daughter Pam Longwell took over after he passed. I came on in 2019 when she retired," says Brannon Dixon, CEO of pet store chains Feeders Pet Supply and Chow Hound Pet Supplies.
In those early days, pet food for dogs and cats was a mere afterthought. However, as pets joined the family and came in from the backyard, the shift to pet supplies was a natural one.
"Mr. Gibson decided to open up a pet store as part of Feeders, and that became the anchor for the company," Dixon says. "We still carry some livestock feed, and help out at the Kentucky State Fair, North American Horse Show and all the junior shows at the fairgrounds."
In 2016, Chow Hound Pet Supplies, a Michigan-based retailer founded in 1989, joined with Feeders Supply, while retaining its original name and logo. Today, Chow Hound Pet Supplies has 16 locations.
In 2020, Feeders Supply became Feeders Pet Supply to further distinguish the concern as business expanded into Ohio and other states.
"Feeders Supply meant a lot in the Louisville market, and in Kentucky, but this was a way to differentiate what we stand for," Dixon says.
At the time, the business was already 35 stores strong, and over the next two years, more growth took place.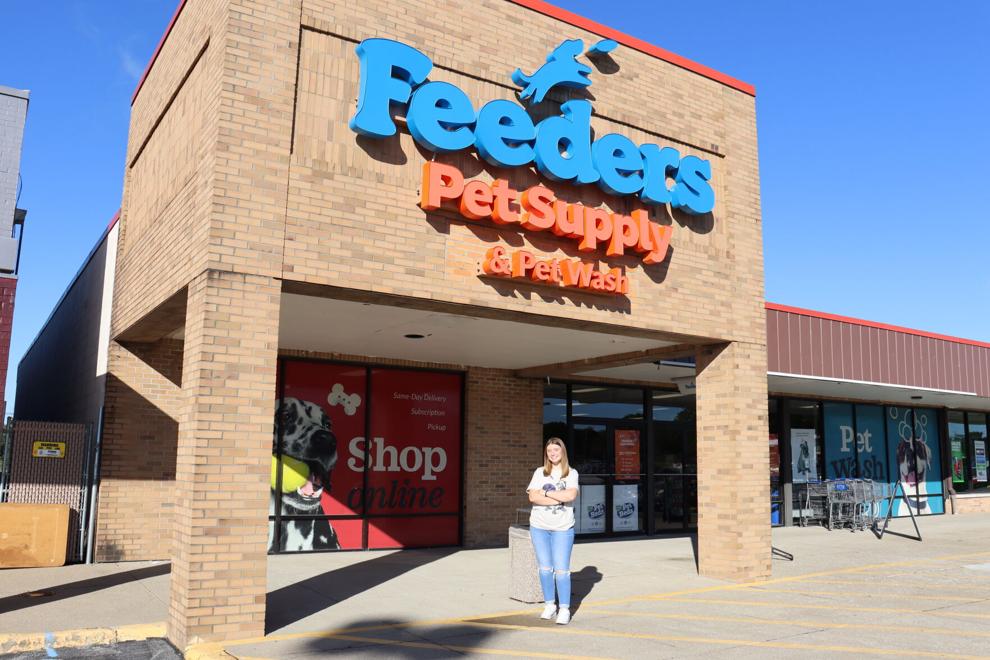 "We opened 17 stores, remodeled five and relocated three," he says. "We are now in four states, Michigan, Indiana, Ohio and Kentucky, and have a store opening in Tennessee in February 2023."
Dixon's extensive background in the retail industry brought in new expertise.
"We made it scalable, we put technology in place, along with planogramming and category review, enabling us to move quickly," he says. "When construction hands a new store over to us, we can fixture it in three days and open seven days later. We have created a great, repeatable model that is very nimble."
Corporate staff moved into a new Louisville office space in early 2020. Two distribution warehouses service all stores.
"We have a 100,000-square-foot distribution warehouse in Louisville and approximately 9,000 square feet in Grand Rapids, Mich.," Dixon says.
In 2019, Feeders and Chow Hound Pet Supplies underwent rebranding, including SKU commonality and marketing efforts. Color schemes, now uniform throughout, focus on five designations, each identified with large graphics.
"I call it the 'romper room' effect in our wall colors: green for dog, orange for cat, blue for our services, dark green for our next gen, frozen, and freeze-dried products, and then we have the zoo concept, which is like a teal beige," he says. "Outside, we have specific graphics for the window displays."
The Feeders Pet Supply logo has also been rebranded and will eventually encompass Chow Hound Pet Supplies stores, as well.
"We did brand equity and brand studies over the past year and are planning, at some point, to move to one banner," Dixon says.
The Experience & Selection
Well-trained and knowledgeable staffers are central to stellar customer service, and fundamental to the overall store experience.
"They are our biggest differentiator against the behemoth pet companies and the online vendors," Dixon says.
A comprehensive educational program meets this objective. Covering topics such as customer service, pet nutrition and advanced nutrition, the training syllabus offers associates a deep dive into all things pet (see Animals, People, Sales sidebar).
A spacious training facility at the new corporate office, combined with instruction via Zoom, furthers this effort.
Customer feedback is another means of refining the overall experience.
"We solicit customer feedback so we can make corrections, whether it is from direct surveys, or from our live chat or feedback forum," Dixon says. "For instance, we did a survey to find out what dog food brands customers were buying, and we brought in some of those brands."
The number of new customers gained from this adjustment was calculated, as well as how many subsequently stepped up to more premium brands.
The addition of delivery services enhances shopping ease.
"We planned on opening an e-comm site in 2021, and then COVID hit and we had thousands of calls, so we had a site set up with eTailPet, [a POS software company], within the first week of May to help with in-store pickup and delivery," he says.
Today, the operation undertakes its own delivery service, which is free within a 10-mile radius of each store with purchases over $39.
"We established our own proprietary e-commerce site with BigCommerce in November of 2021 and pay our associates a fee and mileage for delivery," he says.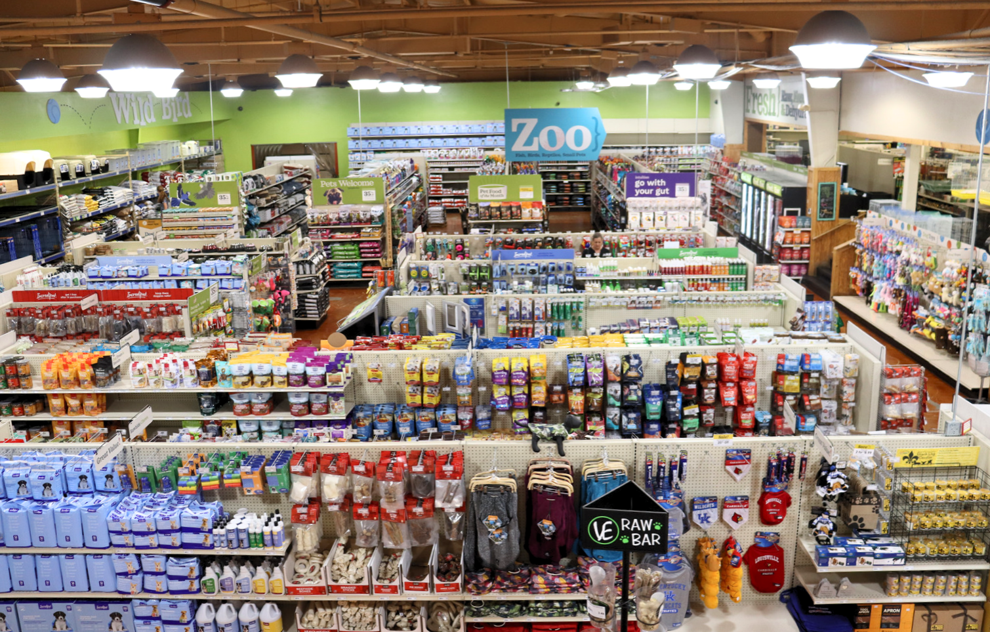 Auto-order is another expansion.
"That's a key initiative into 2023, and we have pretty heavy metrics for that year," Dixon says.
Shoppers browse and select from a broad range of pet supplies, the majority of which are USA-sourced. It's an evolving mix.
"In 2020, it was all about achieving SKU commonality, which allows better leverage with suppliers and makes the e-commerce product catalog easier to manage," he says.
A business intelligence system was put in place, resulting in plenty of data.
"We track inventory, our sales, units per transactions," he says. "We hired a data analyst and carved things every way to Sunday, so we could create the best assortments based on data, along with what we knew was coming in the marketplace."
A private label line, Incredipet, offers basic treats and an extensive array of pet supplies including collars, leashes, shampoos, puppy pads, diapers and carpet cleaners.
Additionally, Feeders Pet Supply and Chow Hound Pet Supplies debuted a private label pet food brand, Intuition, in 2021. Featuring dry dog food, treats with benefits, chews and toppers, the made-in-USA formulas focus on the needs of every dog—puppy, small breed, large breed and all life stages.
"There is really not a category that we are not in," Dixon adds. "All of 2020 was about building relationships and pipeline, then we ran everything through a pricing model."
Small pets joined the mix storewide in 2020.
"We added ferrets across all the stores, and Feeders added snakes and more reptiles, as well as a larger assortment of fish," Dixon says. "For every reptile sold, more crickets, worms and roaches are purchased, so it's not about making a lot of money on the animal; it's about the [repeat businesss]."
While fish were previously carried in most of the Feeders stores, Chow Hound has also expanded into fish, as well as small, furry animals and reptiles.
"We have live-animal managers who change the tanks out and the bedding to ensure the animals are well cared for," he says.
The stores' pet food selection is extensive.
"We have a great assortment of foods and run on a 'good, better, best' strategy, priced right," Dixon says. "I like the grocery food brands in some cases, because it's a great way to bring customers in and educate them about the premium and super-premium brands."
Promoting animal health is the foundation of the Feeders Pet Supply and Chow Hound Pet Supplies philosophy, and well-trained staffers are at the ready to assist customers in nutritional selections, with problem-solving abilities front and center.
"They know how to build a bowl, how the right ingredients will help solve health issues," he says. "If we don't have a solution, we will suggest someone who does."
Over the past few years, the stores have added to the frozen and refrigerated offerings.
"We went from one freezer in a four-foot section to a 20-foot section with four freezers," Dixon says. "We have expanded our gently cooked and freeze-dried selections."
Dog and cat food sections are separated by a 60-foot-long treat bar, with a drool-worthy array of bulk and packaged goodies.
Supplements are also in the offerings, including the company's own line of Intuition brand products including calming aids and multivitamins for joint support and skin and coat health.
Innovative Concepts & Services
Staying on the cutting edge of consumer demand is essential to new development, and in 2022, a 24,000-square-foot concept store opened for business in a one-time Louisville athletic club.
The new facility encompasses 15,000 square feet of retail sales floor, along with a grooming salon, four bays for self-serve dog washing and an obedience training area with enough space to accommodate three training classes simultaneously. Boarding facilities opened in January 2023, and day care services are in the planning stages. Veterinary services will also be on site.
"Our veterinary clinic will be at the front of the facility," Dixon says.
The concept store is the stepping-off point to expanding these services into stores in other areas.
"It gives us the ability to test, scale and work through the opportunities that we can provide our pet parents," he says. "You do a perfect concept, kind of work through it, and then start scaling it."
Grooming salons, added in 2020, were the initial foray into services, according to Dixon.
"Services are the cornerstone to what we are trying to provide, and every new store above 8,000 square feet has a grooming salon," he says. "We have 18 existing stores that will add grooming salons over the next year and a half."
The number of groomers on staff is dependent upon volume and store size. While customers are able to schedule their own appointments through MyTime software, a central scheduler oversees the process and is able to make necessary adjustments.
"If there is a gap between appointments, a cancellation, or a customer asking for a last-minute appointment, calls are made," he says. "That way we can truly maximize our groomers' schedules."
To further free up groomers at the busier salons, bathers are on hand to assist.
An Express Bathing service, rolled out in early 2022, supports pet owners wishing to have their dogs bathed without the groom.
"We have associates trained to do bathing, nail trimming and ear cleaning," Dixon says.
For the pet owner ready to roll up their sleeves, self-serve dog washing bays, located adjacent to the grooming salon, are at the ready. The all-inclusive service offers shampoos, towels and drying for a minimal price.
"About 90 percent of our stores have private rooms instead of the open, communal type," he says. "It's a good differentiator and something that our customers appreciate."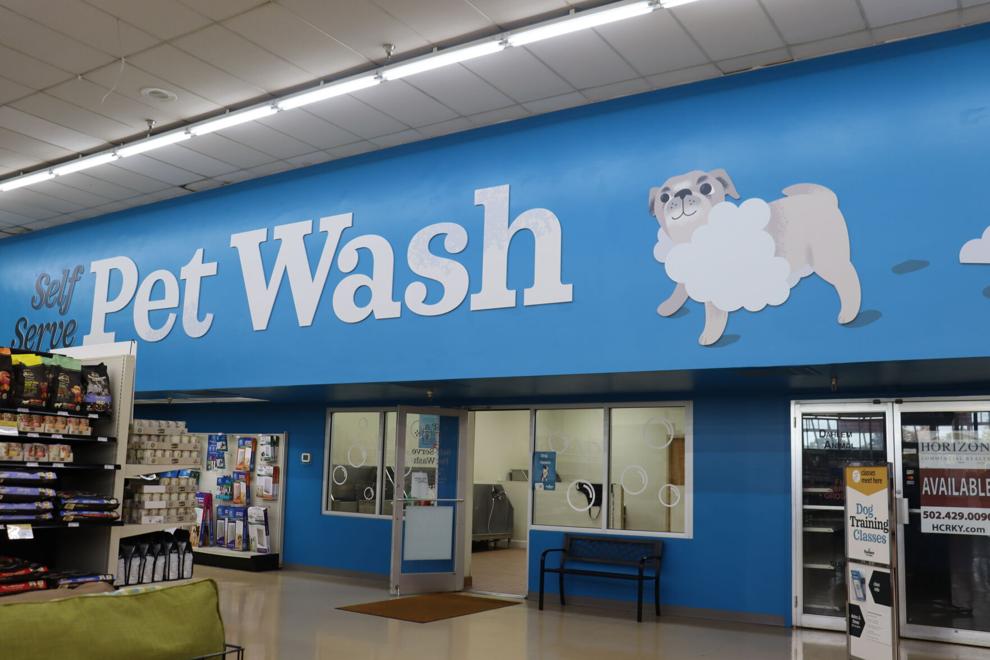 A happy, well-trained pup equals serenity at home, and dog training services assist in furthering that aim.
"We offer dog training at every store but can consolidate between two stores depending on class size and proximity," Dixon says. "We partnered with Happy Tails Obedience School in Louisville for many years, and in January 2022, we bought the school."
Trainers are independent contractors, with transactions facilitated through individual stores.
Free puppy classes are available.
"A pet parent with a brand-new puppy can come in for a two-hour class," he says. "They learn about puppy training, get acclimated to the store and perhaps sign up for level one, two, and so forth in our training programs."
Classes take place in various spaces within each store, either a back room or the built-in events areas featured at other locations. These event spaces also host pop-up pet care clinics.
A Community Presence
Social media is utilized not only to promote brand awareness, but also in community building, and an events coordinator ensures that there is plenty going on.
For example, Pups at the Pitch, held in collaboration with a Louisville professional soccer team, earmarks a portion of ticket sale proceeds from that day in support of the Kentucky Humane Society. It's a day of dog-friendly fun.
"There's a soccer game going on; dogs are everywhere sporting the Louisville City FC soccer team bandanas that we give away, along with treats," he says.
Pet owners desiring a little more repose can quaff a brew with their furry friend at their feet at Pups on the Patio.
"We have partnered with a number of breweries for this event, where people can sit on the patio with their dogs," he says. "We hand out treats and do giveaways."
For those wishing to relax at home and bargain hunt, Yappy Hours are online, two-hour flash sales, often offering up to 20 percent discounts storewide.
"We have also done an Up All Night sale from 9 p.m. to 9 a.m., and one from midnight to 4 a.m.," he says. "We've done some crazy stuff."
Assisting shelters and rescues is another linchpin to the Feeders Pet Supply and Chow Hound Pet Supplies credo. Many stores feature adoptable cats on site, removing felines from a stressful shelter environment and allowing more visibility to potential families. Pet adoption days take place on a regular basis in all stores and in partnership with local animal organizations.
Donations, drives and in-store events with a fundraising component also provide much-needed monies, supplies and foods to rescue organizations.
"We held a one-day toy drive where for every two toys purchased, we would donate one to the rescue or shelter selected by individual stores," Dixon says. "We also donate all the damaged or marked-down food back to the local shelters."
In 2022, approximately 135,000 pounds of dog and cat food was donated to shelters and rescue organizations.
---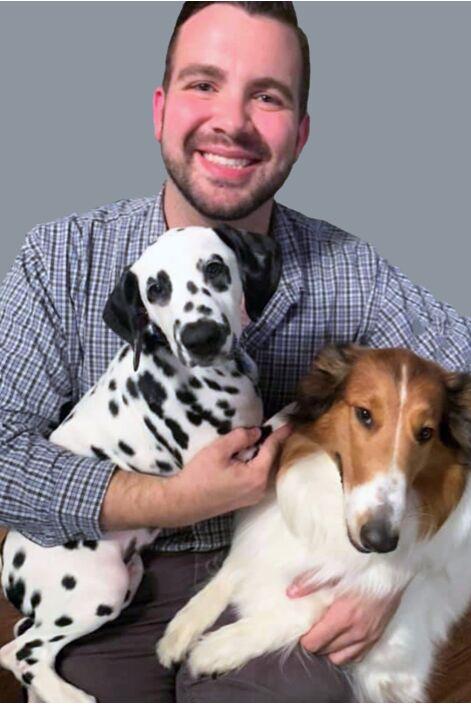 Animals, People, Sales
It just might be an understatement to label Josh Perkins an animal lover.
"I have been pet crazy from the beginning," Perkins says. "I was that 5-year-old kid bringing turtles and snakes in from the backyard and wanting to keep them as a pet."
As a young man, employment at a pet store seemed the ultimate vocation.
"I always knew that I wanted to work in a pet store and started working at Feeders Supply when I was 16," he says. "This is my 18th year here."
Perkins' journey commenced with a sales associate position, followed by a move to store management and culminating in his current role as operations manager—the ideal calling that includes overseeing the training program and sharing his ardor for all things furry, winged and scaled.
"If we carry an animal in our stores, I've probably had one as a pet at some point in my life, from hamsters to hedgehogs to snakes," he says. "Working here is my destiny."
However, Perkins' love of animals is equaled by a devotion to people.
"When people ask why I work here, I tell them it is because I have three passions as far as my work goes—animals, people and sales," he notes.
These traits blend seamlessly when providing training and motivation to the Feeders Pet Supply and Chow Hound Pet Supplies team members.
"I love seeing that lightbulb turn on in an associate's head, either from a nutrition or development standpoint, or when training managers on how to coach their people," he says.
Upon stepping into his function as training guru, Perkins' first order of business was to standardize the educational format. This undertaking has served the company well during escalating growth.
"When I first took on this role, we had 11 stores and training was up to the individual store managers," he says. "So, I put together a process manual for new hires, detailing how to run the register, or do stock, things of that nature."
From there, Perkins began fine-tuning pet nutrition and customer service training guidelines.
"I installed these classes pretty quickly," he says. "Some of the information was from our marketing director at the time, my mentor in nutrition, and I just kind of ran with it."
Classes take place once or twice per month, depending on the number of new hires.
"The classes include a two-hour session on pet nutrition basics covering the whole gamut," he says.
Rather than distributor and manufacturer brand training, the Feeders Pet Supply and Chow Hound Pet Supplies syllabus is created through Perkins' own research and expertise. However, Pet University provides selected vendors the opportunity to present products.
"For Pet University, I'll rent a space, at a hotel for instance, and have the vendors come in and set up tables," he says. "We work around the room, with each vendor allotted 20 minutes to present before the group moves on to the next table."
During COVID, training meetings were held via Zoom, and Perkins is presently studying the logistics of combining live and online meetings.
Advanced nutrition classes, taught to next-level supervisors and high-quality associates, dive into a deeper level of nutrition, providing an in-depth understanding of common and not-so-common health ailments that can be addressed through nutrition—for example, diabetes, Cushing's disease or pancreatitis.
Besides nutrition, tutelage for new hires spotlights what Perkins calls the customer experience.
"I ask new associates if they think this is a customer service class, and the answer is always 'yes,'" he says.
Perkins is quick to point out that customer service is merely one facet to a memorable store experience.
"The store has to sell itself from the time the customer enters the parking lot to when they leave," he says. "It's everything."
While employee knowledge and expertise remains the cornerstone to a stellar experience, Perkins says he looks first for an outgoing, friendly nature.
"It's not that a pet background is irrelevant, but when you hire for personality, everything else is trainable," he says. "For years, we have had a reputation for associates that really know what they are talking about. It creates a level of trust that makes us stand out."
Employee tenure and familiarity furthers that confidence.
"It's that 'Cheers' atmosphere," he says. "Many of our store managers have been with us for more than 20 years and have built a camaraderie and relationships."
Basic rules broaden the experience. For example, telephone calls are to be answered by the third ring, and shoppers are always greeted upon entering the store. But the welcome doesn't stop there.
"Within three to five minutes, the customer is greeted again in the aisles with open-ended questions," he says. "These simple things make such an impact."
More important, customers and their furry kin are greeted with genuine affection and treats.
"A store is just a name, a building, but customers fall in love with the people," he says.
Perhaps, in his heart, Perkins remains that pet-loving youngster, with a current menagerie consisting of Willow, a collie, Parker, a Dalmatian, and cats Harvey and Chloe.
"They are my pride and joy," he says.
Aside from his furry family, Perkins also breeds and shows cockatiels, and is a judge for the National Cockatiel Society
---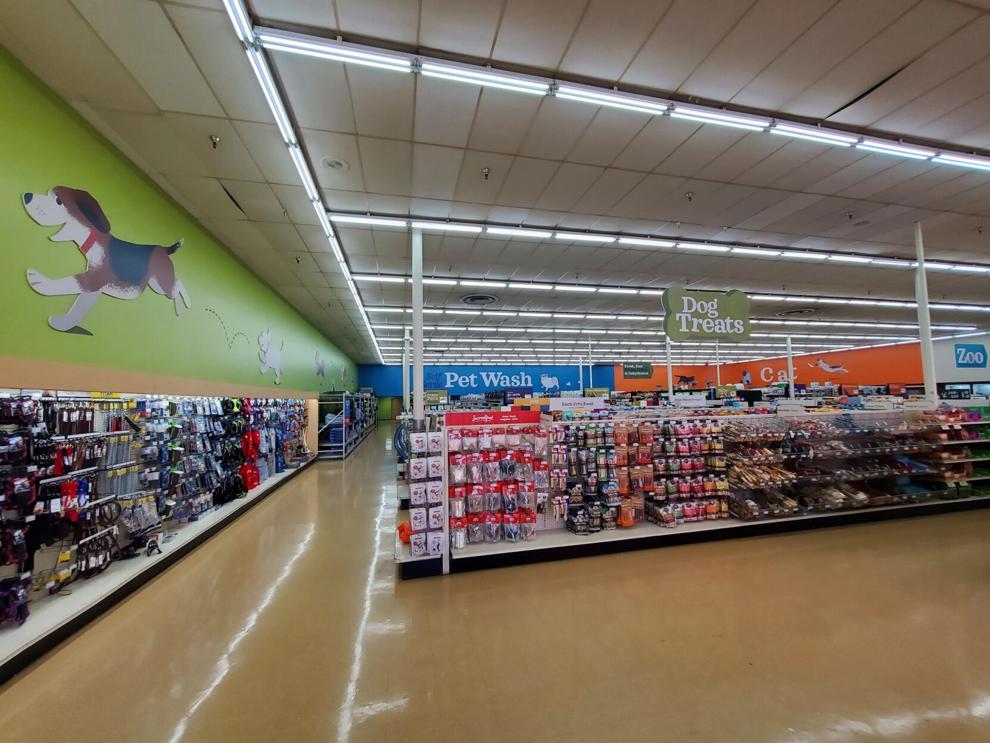 It's A Retail Life
What are Feeders Pet Supply and Chow Hound Pet Supplies best known for?
Brannon Dixon: Putting the animal first.
What do you see as the greatest challenge for the independent retailer?
Dixon: Differentiation—doing things that make you more relevant than an online player and offering a wider breadth of product and services than the big brick-and-mortar player.
What about for the pet industry overall?
Dixon: We have talked about millennials for years; now it's Gen Z and tapping into what they are purchasing. Being able to transition to the younger customer, where their dog is actually their baby, means we need to offer the products they are looking for.
Are you watching any interesting trends?
Dixon: We have started carrying the Instachew HD camera monitor. The cameras rotate 360 degrees, so pet parents can see their dog in any room in the house when they are gone. We need to be on the front side of innovation, rather than waiting around to see what happens on the tail end of the revolution.
What do you see for the future?
Dixon: We are projecting eight to 12 stores per year, but will do so in a disciplined way by going into communities where there are pet parents and folks that can really benefit from Feeders Pet Supply or Chow Hound Pet Supplies.
---