The city has distributed 280 pounds of dog food, 44 pounds of cat food and 320 pounds of litter alongside other items to evacuees and their pets
Article content
The City of Calgary is offering pet food and supplies to evacuees from the Northwest Territories, many of whom came with their furry family members in tow.
More than 2,700 people have fled to Calgary from multiple community-threatening blazes in the N.W.T., and 145 pets have also been registered at the local evacuation reception centre, according to the city. City officials assured evacuees on Wednesday morning that those dogs and cats will be kept fed and healthy during their stay in Calgary.
Article content
"We realize that this is just a small part of the city's response effort, but it's a critically important part, especially for those who own pets," said Ryan Pleckaitis, the city's chief bylaw officer.
Over the last few days, Calgary bylaw officers and staff with the city's animal services department have distributed 280 pounds of dog food, 44 pounds of cat food and 320 pounds of litter, as well as leashes, dog waste bags, cardboard cat carriers, among other materials for pet owners.
Pleckaitis said the city has "five times" that amount that can be distributed as needed, with another Wednesday delivery planned to hit the hotels where evacuees are posted. He also thanked those hotels for allowing the animals to seek refuge alongside their owners.
"It's very helpful considering the challenges that we have with capacity within not only our facility but pet rescue organizations all across the country," said Pleckaitis.
Approximately 200 more evacuees have arrived in Calgary this week
Evacuee Cameron Wilson, who fled the territorial capital Yellowknife by car last Wednesday with his partner and two dogs, said he managed to bring along enough dog food for a couple of weeks. But others didn't have time to grab those supplies or didn't have space for bags of pet food on tightly packed military airlifts.
Article content
"A lot of people had to leave without any real preparation. So I do really think that's a good step in the right direction," said Wilson.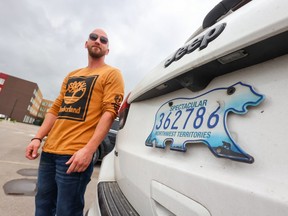 With his stay now nearing the one-week mark, Wilson said more is needed from the territorial government to support its residents.
Each N.W.T. resident whose employment has been disrupted for more than a week can apply for a one-time stipend of $750, but Wilson said that's likely not enough for some residents as they begin their second week away from home. The application process for those funds is opening in stages, with the portal set to open for Yellowknife evacuees on Thursday.
"Especially when people have kids … a few animals, they've got to feed themselves," he said. "I don't think that's very reasonable, and they could step it up a little bit."
The City of Calgary says the number of pets in town is expected to increase alongside human evacuees as more continue to trickle in by vehicle. About 2,500 N.W.T. evacuees had arrived in Calgary between Thursday, when the city began registering evacuees, and Monday. Some 200 more showed up over the last couple days.
Article content
As of Wednesday, the Calgary Emergency Management Agency has procured more than 1,200 rooms at 48 hotels for evacuees, providing accommodation to 2,707 people — including 304 seniors, 450 children and 360 families.
The city's evacuation reception centre remains open at the Calgary Westin Airport Hotel, where evacuees can register to receive city supports, including hotel, food and transit vouchers.
Yellowknife mayor says wildfires still threatening the N.W.T. capital
Late Tuesday, Yellowknife Mayor Rebecca Alty — whose city of 20,000 was ordered evacuated last week, with less than 1,000 holdouts remaining behind — said it's still not safe to return, but officials are working on a return plan.
The fire continues to burn about 15 kilometres outside the N.W.T. capital, and is still considered a threat to the city, Alty said.
"We started our planning on Friday and we'll continue working on it until we can welcome residents back. Unfortunately, for now, it's not safe to return so residents should remain where they are," said the mayor.
Other blazes burn within eight kilometres of Hay River, on the south end of Great Slave Lake, and four kilometres outside of Fort Smith, on the Alberta-N.W.T. border. Officials have said they expect hotter and drier conditions and shifting winds near those two smaller evacuated communities this week, making for a challenging firefight.
The blazes have forced about seven of every 10 N.W.T. residents, about 30,000 people, out of their homes.
— With files from The Canadian Press
mrodriguez@postmedia.com
Twitter: @MichaelRdrguez